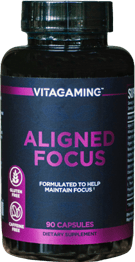 In a world that is fast-paced, noisy, and always on-the-go, there are countless distractions that get in the way of a person's ability to concentrate. These diversions and interruptions constantly compete for our attention, making it increasingly difficult to focus on learning, solve complex problems, remember past events, make new plans, even accomplish routine tasks.
For athletes, in particular, the ability to be completely "in the zone" is critical to achieving peak performance at every level of their game.
There are many factors that influence a person's ability to stay focused. These would include the usual suspects such as preoccupation with social media and gadgets, too much multi-tasking, high levels of stress and anxiety, lack of sleep, and more importantly, poor nutrition.